Multi-line Pumps & Progressive Systems for Oil & Grease
Multi-line pumps can be use to supply lubricant directly "pump-to-point" and / or in conjunction with progressive metering devices as part of a centralised lubrication system.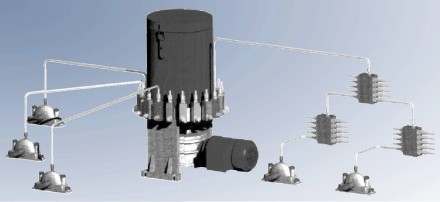 Our multi-line pumps can serve up to 15 independent lubrication circuits, each with its own fixed or adjustable output pumping element. Our multi-line pumps can operate continuously or intermittently via control timer.
Our progressive systems operate on the reliable "progressive principle" in which NLGI #2 grease is dispensed by a piston pump to the lubrication points via progressive metering devices. Lubrication occurs in metered, timed intervals.
Regardless the number of circuits, both multi-line and progressive lubrication systems are easy to monitor and ensure the correct quantity of lubricant is dispensed to all lubrication points.