All-in-one Compact Lubrication Systems

We offer complete lubrication systems that include all necessary monitoring and control functions. They are supplied assembled with all components (including an internal over-pressure relief valve), requiring minimal on-site assembly. The integrated, all-in-one system reduces installation time andcost.
Models are available for industrial use or mobile applications. Up to 18 lubrication points can be supplied with either multi-purpose grease (NLGI #2) or fluid grease (NLGI #000 and #00), or oil directly from the pump at an affordable price.
Multi-functional
An integrated printed circuit board (PCB) optimally controls the pause and operating times, and monitors the number of cycles (of the attached progressive metering device) to ensure a regular supply of lubricant. All settings are performed with ease via a keypad. Settings and messages are shown on a built-in LED display. Also available is a "key lock" version that locks the programme function, with optional low-level control.
Sturdy
Our all-in-one compact systems are shock- and vibration-proof, and operate reliably even when exposed to severe operating conditions such as temperatures ranging from -25 deg. C to +70 deg. C or high pressure wash-downs. Also available is a version that operates in various mounting positions.
Compact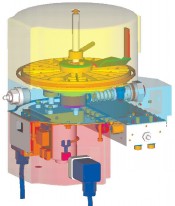 Our all-in-one compact systems are high pressure lubrication systems, complete with a controller and monitoring, a function LED display and an attached progressive metering device to distribute the lubricant. All system components and all the functions that are required to lubricate at a professional level are included.
System Features:
1-ltr capacity reservoir (optional: low-level control)
Small, compact, ready to intall package
Space requirements, 230 x 230 x 215 mm
Integrated controller with monitoring (optional: without controller)
Integrated LED display with keypad
Quick and easy refilling (optional: fast-fill cartridge pump)
Built-in over-pressure relief valve (with return-to-reservoir)
Available in 12 / 24 volt DC and 110 / 240 volt AC versions
Attached progressive metering device (optional: detached metering device)
Suitable for multi-purpose grease up to NLGI #2, fluid grease or oils