Grease Spray Systems
Our HSA Series wides-angle nozzles are designed to spray adhesive lubricants on pinions, open gears, etc. The spray nozzles are available in several versions that cover a wide range of applications and functional features.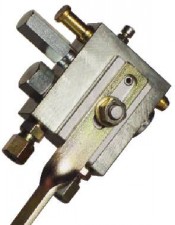 For example, our SDL-KR nozzle (right) monitors both the flow of spray air AND lubricant within the nozzle - an air solenoid valve to control the flow of spray air is not required. Wheras the economical TD2 nozzle can be monitored externally by means of a progressive metering device, with the flow of spray air controlled using an air solenoid valve.
Complete mounting plates are available for easy alignment of all spray nozzle types.
Applications: pinion lubrication, open gears, etc.
Industries: cement, pulp and paper mills, etc.
Capabilities
Controlled spray nozzles provide 100% monitoring of both the flow of spray air AND lubricant supply
Repeatability of spray pattern
Complete air control possibility to reduce consumption