Lubrication of Chains and Power & Free O/head Conveyors
Despite new types of material and advanced technology, many chains still require lubrication. Optimum lubrication reduces friction and subsequent wear on chains.
The largest relative movement of all chains occurs between the link plate and the chain stud, and it is here where considerable forces are present. Insufficient lubrication of this area will result in premature wear and chain failure. The consequence is likely to be expensive production downtime. Precise and efficient lubrication is a prerequisite for trouble-free operation and a long-life of the chain.
Our automated chain lubrication systems provide an exact metered quantity of lubricant and apply it reliably to the chain where it is required.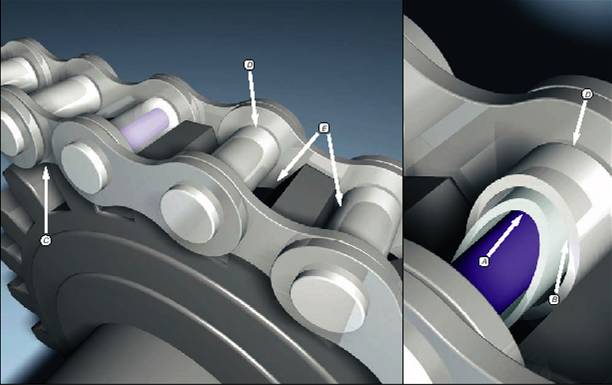 Friction Points on a Chain
Friction between bushes & roller
Friction between the inner & outer plates
Friction between the plate / bushing
Sprocket, roller & inner plate
Friction points at the drive & chain attachments
Advantages of Automated Chain Lubrication
Increase life expectancy of the chain
Minimize downtime resulting from insufficient lubrication
Reduce energy consumption
Reduce lubricant consumption
Absorb shocks and beats
Cooling of fast-running chains
Silencing of noise
All renowned chain manufacturers recommend the periodice re-lubrication of a chain. The most important design criteria to consider is:-
good penetration characteristics
high pressure resistance
reliable corrosion protection